By joining and participating in any of our events, you agree to the following rules:
You participate in our events and classes at your own risk.
You are responsible for your belongings and physical safety. Please, take care of yourself and the other participants! The organisers do not assume any responsibility for any injury or damage inflicted upon people or material assets.
The organisers reserve the right to change any programme element of the events and classes. We will communicate any possible change on the website and / or Facebook Page.
Furthermore, we reserve the right to replace the teachers in case any of them gets sick.
By registering to our events or classes, you agree to have pictures and video taken, shared and used on social media and for our own marketing purposes.
Registration is required for all event organized by the association, unless otherwise provided for.
Only persons over the age of 16 are allowed to attend any of our event organised by the association. For persons under the age of 16, participation requires parental supervision!
In case of inappropriate behavior, you may be asked to leave our events without a refund. Inappropriate behavior includes the Code of Conduct terms, also includes any aggression, yelling or personal attack towards event participants, event organizers or event volunteers.
Keep Swinging is dedicated to providing a safe and comfortable event experience for everyone, regardless of gender, age, sexual orientation, ability, physical appearance, body size, race, or religion (or lack thereof). We do not tolerate harassment of event participants in any form. Event participants violating these rules may be sanctioned or expelled from the event without a refund at the discretion of the organizers. We expect cooperation from all participants to help ensure a safe environment for everybody.
Harassment includes offensive verbal comments related to gender, age, sexual orientation, disability, physical appearance, body size, race, religion, sexual images in public spaces, deliberate intimidation, stalking, following, harassing photography or recording, sustained disruption of workshops or other events, inappropriate physical contact, and unwelcome sexual attention.
If you are being harassed, notice that someone else is being harassed, or have any other concerns, please contact a member of any Keep Swinging Teacher Team member, event staff or a volunteer immediately. Event volunteers can be found at any venue.
Teachers and volunteers will be happy to help participants contact venue staff or local law enforcement, provide escorts, or otherwise assist those experiencing harassment to feel safe for the duration of the event. We value your attendance and your safety.
We expect participants to follow these rules on classes, workshop or any events what we organize.
On the Social Dance floor and on classes
Respect yourself, your partner and those around you. Bear in mind boundaries may differ from person to person. Keep good faith and trust in communication, if something doesn't feel right – speak up. Our staff will always be available in case you need help.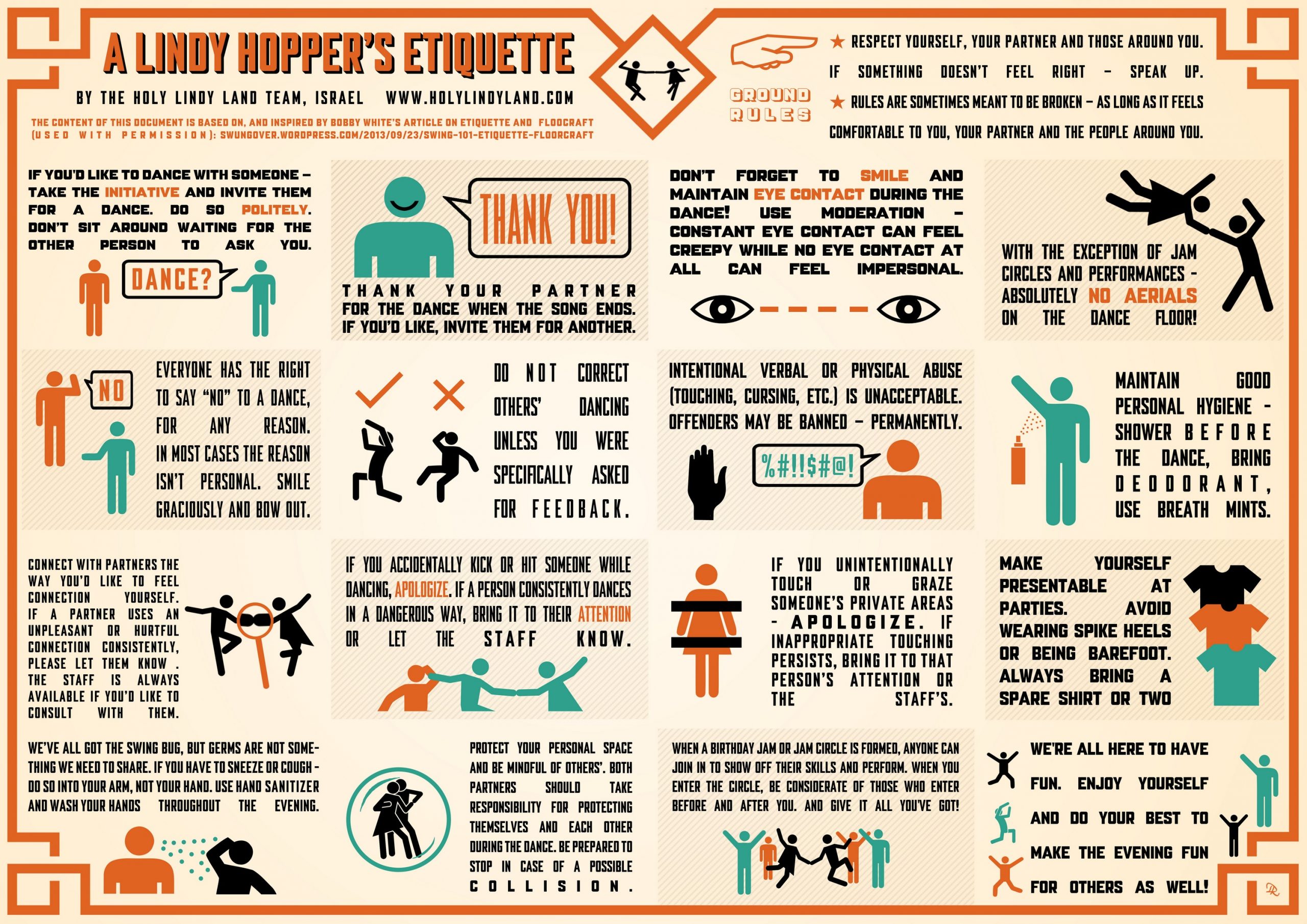 Maintain Good Personal Hygiene!
Bring deodorant, use breath mints and shower before the dance.Always bring a spare shirt or two.
Germs are not something we need to share. If you have to sneeze or cough – do so into your arm, not your hand.
Want to dance with someone?
Take initiative, and invite them.
Do so politely, don't sit around waiting for the other person to ask you. Remember the familiar feeling of shyness and try breaking it.
Connect with partners the way you'd like to feel connection yourself.
If a partner uses an unpleasant or hurtful connection consistently, please let them know. While doing so, please bear the good faith in mind. The staff is always available if you'd like to consult them.
Everyone has the right to say NO to a dance.
That might be for any reason. In most cases, the reason isn't personal. There are and will be plenty of other opportunities. And in case you do say NO, remember to do so politely.
Avoid unsolicited feedback or instructions
Do not correct others' dancing unless you were specifically asked for feedback. If your partner opens up to hear you, remember to be kind.
The song is over?
Thank your partner for the dance in your own way. A warm smile, a hug or a simple high five is a nice way to communicate your appreciation of the experience.
Having fun?
Smile! Maintain some eye contact during the dance. Use moderation – constant eye contact can feel creepy, no eye contact at all might feel impersonal.
Play Safe
Keep your eyes open on the dance floor and try not to bump into others around you. Aerials, lifts and drops are great in a jam session or competition but should not be carried out on a social dance floor. Remember your partner may have an injury that you're unaware of and even dipping a partner might hurt them. If your partner is hurting you unintentionally please take care of yourself and let them know.
We are all here to have fun! Enjoy yourself and do your best to make the evening fun for others as well!
Avoid wearing spike heels or being barefoot, protect yourselves and others around you.
When a jam circle forms, anyone can join to exhibit their skills and perform. When you enter the circle, be considerate of those who enter before and after you, give it all you've got! If you don't feel like being in the spotlight at that moment, remember the circle is a big part of it! Feel free to join the circle and clap the hell out of the song!
During Live Music
We are trying to organize more and more live music sessions during our social dances and other events. Please welcome the musicians with warm welcome when they enter the stage and don't forget to clap and cheer for them between songs. Usually for the last couple songs we like to gather near the stage, feel free to join the crowd and have fun together!